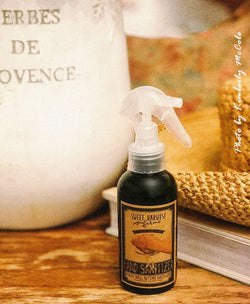 Sweet Harvest Farms
Organic and Natural Hand Sanitizer - keeping your hands clean!
Sweet Harvest Farms Organic Hand Sanitizer
A percentage of sales is now going to provided N95 Mask, Hand Sanitizer and Sanitizing Surface Spray for medical workers across the US. Thank you for your patronage. We are fighting this together.
~~~~~~~~~~~~~~~~~~~~~~~~~~~~~~~~~~~~~~~~~
Keeping your hands clean!
"I am in love with Sweet Harvest Farms Hand Sanitizer. I bought this product on Friday and this will be a main staple in my families home from now on in. You only need to use a little bit. No sticky chemical feel or scent. The essential oils are anti-fungal and anti-bacterial. The scent of this product is fantastic!! I'm a fan for life!"
Thank You, Darra Kollios
~~~~~~~~~~~~~~~~~~~~~~~~~~~~~~~~~~~~~~~~~
I just got my hand sanitizer in the mail! Absolutely love it! It smells amazing and it doesn't dry my hands even though it is 70% alcohol.
Thanks! V.  Renyer 
~~~~~~~~~~~~~~~~~~~~~~~~~~~~~~~~~~~~~~~~~
I got my first bottle today and I have to say that I LOVE the scent of this sanitizer. My hands feel silky smooth and smell great!
-J. Gail
~~~~~~~~~~~~~~~~~~~~~~~~~~~~~~~~~~~~~~~~~
The CDC states that any hand sanitizer should contain at least 60 percent alcohol. Our hand made organic hand sanitizer contains 75% of the strongest and purest alcohol available (150 proof). Anything lower may not work well on different types of germs or viruses.
All of our organic ingredients are used to benefit and help protect your skin-
Highest Grade Alcohol: Alcohol is one of the most commonly used disinfectants (75%). It kills most bacteria, viruses, and fungi by acting on lipid and protein components of the cell. 

Aloe Vera:  For thousands of years this plant has been used for healing and softening the skin. We use 99.75% Pure Organic Aloe Vera Gel.
Organic Food Grade Cinnamon Essential Oil: Which has anti-bacterial properties and nutrients.
Organic Food Grade Clove Oil - Contains antiseptic and germicidal properties that help fight infections.
Organic Food Grade Lemon Essential Oil: Lemon Essential Oil acts as a detoxifying agent. Its anti-bacterial properties can also sanitize.

Organic Food Grade Tea Tree Essential Oil:  Tea tree oil has natural Antibacterial properties making it an ideal natural hand sanitizer.

Organic Rosemary Extract:  Not only slows oxidation but can help soothe the skin.

Organic Vitamin E Oil:  Helps support cell function and skin health. It is also an antioxidant which makes it effective in combating free radicals produced by toxins found in the environment.
Completely organic and cruelty free. No sulfates, phthalates, parabens or fillers. No synthetic dyes or fragrances. It is also free of triclosan, preservatives, and harsh ingredients that dry or irritate your skin.  
All organic ingredients are used to benefit and help protect your skin.
Hand sanitizers do not take the place of soap and water and should only be used only when soap and water is not available!
Unfortunately, there is never a guarantee, that despite all your efforts, you won't come down with any illness caused by a virus. 
As with all of Sweet Harvest Farms handmade organic bath and body, our sanitizer is our own recipe and made entirely from scratch. Never a "base" or a re-packaged product from another source. It is not being offered to any stores so you can only buy it from Sweet Harvest Farms.
This sanitizer is not as thick and gooey as what you may be used to. The Aloe Vera we use is pure and DOES NOT contain water (which then requires preservatives and chemicals to be added), irritating Xanthan, or Carbomers or any other additives/ingredients to thicken the Aloe as many commercial sanitizers do. 
We use a fine mist spray bottle. VERY LITTLE IS NEEDED! THIS GOES A LONG WAY!
Keep all sanitizers out of the reach and away from children!
Keep away from heat.
For external use only

Remember, if you can wash your hands with soap and water that is always your best line of defense because you are touching handles and surfaces all day long.

*Always do a small skin test first before using any topical product.*
SHAKE WELL BEFORE EACH USE!
This product comes in two sizes
Choose from 4 oz. (118 ml)
OR 8 oz. (236 ml)
WE ARE KEEPING OUR PRODUCT PRICE DOWN TO A MINIMUM (ALMOST COST). WE DON'T BELIEVE IN PRICE GOUGING TO ANY DEGREE!
Allow from 7-10 business days before shipment. (3 weeks) Having said that, we are moving them out pretty quickly. If you need anything sooner please reach out to us.
Because of the nature of this product and because ingredients are ordered to make this fresh we cannot accept any cancellations or offer refunds at this time.
Imagine if you could be satisfied and content with your purchase. That can very much be your reality with the Organic and Natural Hand Sanitizer - keeping your hands clean!.

Inventory Last Updated: Dec 05, 2023