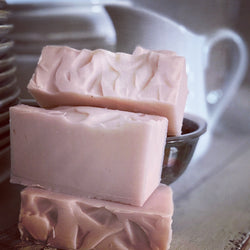 Sweet Harvest Farms
Capri Organic Handmade Soap - aromatic blend of Grapefruit and Lavender
Sweet Harvest Farms Capri Organic Handmade Soap
French Lavender and Grapefruit? Yes! Everyone loves this blend in our lotion and begged for a soap - so here it is! Like all of Sweet Harvest Farms Organic Handmade soaps, it has that rich creamy lather you have come to love. The clean fresh aromatic blend of Grapefruit and Lavender in this organic handmade soap is absolutely heavenly and will make you think you are walking among the clouds in springtime. Both luxurious and long lasting (up to 10 weeks in the shower)

This aromatic Lavender and Grapefruit organic handmade soap is definitely going to be one of those "must haves" in our soap line!
Large 7 oz. Bar will last approximately 8-10 weeks in the shower!  Not because of it's size, but because this is a true soap. Our proprietary formula leaves your skin both soft and squeaky clean.
If your "soap" leaves a film in your shower it is doing the same to your skin and is most likely made from a base or melt and pour! Yuk!
There is nothing like a real bar of soap!

Sweet Harvest Farms Capri Handmade Soap is made with saponified Organic oils of Shea Butter, Coconut oil, Olive Oil, Castor Oil, Palm Oil (always sustainable) along with Orris Root, Vitamin E and Rosemary Extract.
Enjoy!
The Capri Organic Handmade Soap - aromatic blend of Grapefruit and Lavender was built with people like you in mind. Something to keep you happy. Every. Single. Day.

Inventory Last Updated: Dec 05, 2023