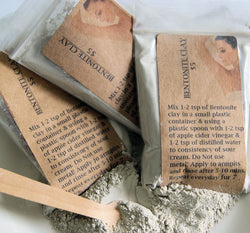 Sweet Harvest Farms
Bentonite Clay - Food Grade/Organic for Detoxing Arm Pits
Most store bought deodorants and anti-perspirants contain both chemicals and additives. Since sweating is your body's natural cooling mechanism (in some cases you could actually die if you didn't sweat) you have to think that commercial products must be using potent ingredients to keep you from sweating! Here is a list of what many over the counter products contain:
Aluminum–Evidence links aluminum not only to to cancer, but also Alzheimer's Disease
Formaldehyde - Is a well known carcinogen. You can find this in carpets too (that's another debate for a later time).
Phthalates - These are Endocrine disruptors (can also be found in some plastics) and causes hormone imbalance and infertility
Parabens - This is a hormone disruptor. Also Parabens have been found in biopsied breast tissue that has been dissected due to breast cancer.
Antibacterial Ingredients - These too are endocrine disruptors and have can affect our immune system.
Propylene Gycol - You may know this as Antifreeze! Believe it or not this is in many cosmetic products. EEW!
Triclosan – Is a chemical used in cosmetics and deodorants to kill bacteria which can impair thyroid function.
Because the skin is the body's largest organ, anything and everything you put on it is absorbed into our bloodstream. Many of these toxic ingredients are also stored in fat cells which surround your armpit area Vigilance on what you use from deodorant to cosmetics is key!
The American Cancer Society and the National Cancer Institute say there may not be conclusive evidence that links deodorant chemicals to cancer but there is lab evidence to include what is found during breast cancer biopsies.
Using a armpit detox can help pull some of these chemicals and additives from your skin and underlying tissue. It can also help the organic and natural deodorant work better.
You can always find Food Grade Bentonite Clay yourself but that require you have to buy a large quantity. We have made it simple for you to purchase exactly what you need to include a wooden spoon to stir your mixture.
Simply follow instructions on the bag. Remember not to use any metal, instead use the wooden spoon provided and mix in a glass, ceramic or plastic bowl. Mix to the consistency of sour cream or lotion. Apply thin layer and let sit for about 10 mins. If it is irritating, rinse immediately and pat dry. Try again the next day. Your arm pit may appear red after use but that is normal unless it is irritated or itchy. This could indicate that you may have a light allergy although I have never heard of anyone being allergic to Bentonite Clay…..but you never know!
2.5 oz bag
The Bentonite Clay - Food Grade/Organic for Detoxing Arm Pits is evocative, to say the least, but that's why you're drawn to it in the first place.

Inventory Last Updated: Oct 02, 2023