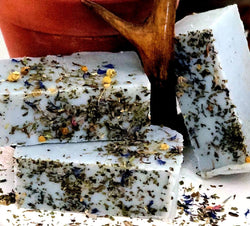 Sweet Harvest Farms
Witches Brew Tea Infused Organic Handmade Soap
Sweet Harvest Farms Witches Brew Tea Infused Organic Handmade Soap
 The aroma is very mysterious! A spicy blend mellowed with a hint of rose and lavender. A very unique aroma that pulls you in and dances around luring you in for another whiff of its tantalizing scent!
Sweet Harvest Farms Witches Brew original and organic tea infused handmade soap starts with brewing the tea, of course, using distilled water. It is then added to the cold processed soap method that Sweet Harvest Farms has perfected. Using original recipes that are only exclusive to SH Farms, the tea leaves themselves are then added to the soap and later sprinkled on top for a gentle exfoliation.
Sweet Harvest Farms organic handmade tea infused soap is made with Saponified Organic oils of Shea Butter, Coconut Oil, Olive Oil, Castor Oil, Palm Oil (sustainable) along with Orris Root, Vitamin E and Rosemary Extract.
In addition: Tea leaves of organic: Mint, Chamomile, Peppermint, Spearmint, Lavender,Lemon Verbena, Cornflowers and Rose Petals
Each large 7 oz. bar will last 8-10 weeks in the shower!
Every product is unique, just like you. If you're looking for a product that fits the mold of your life, the Witches Brew Tea Infused Organic Handmade Soap is for you.

Inventory Last Updated: Dec 05, 2023
Witches Brew Soap
Love the way my skin feels and oh that fragrance!!